Stop and think for a minute.
Are there people in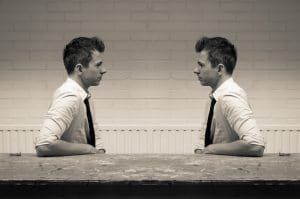 your world
with whom you'd like to experience a better connection?
Maybe even have them see you in a more favorable light?
A friend or acquaintance with whom you'd like a stronger, deeper bond
Someone who hasn't been responsive to your
interactions with them
A strained relationship you want to improve
One highly effective method to increase your connection and influence with people around you is to use the misunderstood relational superpower called empathy. (For more on this effective approach, see the article entitled, Empathy: an "Attractive" Quality That Boosts Your Influence)
A second method, called the mirror technique, can also help you increase connection. By mirroring others, the technique taps into a quirk in our brain (called mirror neurons), discovered by neuroscientists.
What's great about the mirror technique is that anyone can do it, and its effects are quickly seen.
Do you want to make more and better friends wherever you go? Then read on!