Imagine you are a caveman, and you are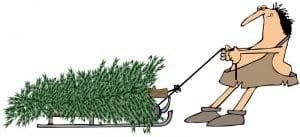 working really hard dragging a sled of
supplies uphill to your cave. You look over at your neighbor and he too is working to get supplies uphill to his cave.
… but he has wheels on his cart.
Sometimes, there is an easier way to accomplish your goals. The surprising news from research is that due to a quirk in human perception, you can "put wheels" on your efforts to make real progress toward your goals.
Using the technique I am about to share with you, one person said, "I found it surprising that I could do [what I struggled to do previously, but this time] without a tremendous amount of effort or commitment."
In their fascinating book, The Power of Moments: Why Certain Experiences Have Extraordinary Impact, Chip and Dan Health show us (among many other things) how we can alter and then leverage our experiences to see greater progress toward our goals.