Has this ever happened to you?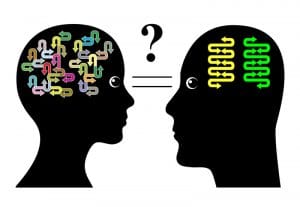 Someone is telling you something…
and you ask a clarifying question to make
sure you are tracking with them.
"Are you saying this? Or that?"
Then, they seem to get impatient with you,
and send you (verbally or non-verbally) a
dummy message.
It can be a slight head shake or a sigh/huff, or just an incredulous look of "Is being stupid your profession, or are you just gifted?" Any way they communicate it, the message is clear: they think you're an idiot.
There is no doubt being on the receiving end of an "idiot" message is painful. I hate it.
Now, let's be honest. I think we have all been on the sending side of a dummy message, too. I know I have. Too often I can get impatient with people who don't understand what I am saying.
Here's the thing: if you understood the WHY behind that impatient reaction (theirs and yours), you wouldn't do it to others as often. Plus, when they do it to you, you wouldn't take it personally because you know what's going on.
It all has to do with what researchers call The Curse of Knowledge.
I'll admit, when I learned about it, I was both astonished and perhaps for the first time understood why humans so easily and often misunderstand each other.